Adobe Illustrator

Typically, Adobe Illustrator files are incorporated into desktop publishing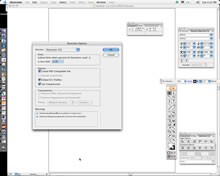 files rather than submitted independently for output. Illustrator, primarily a drawing program, lacks many output tools that standard desktop publishing applications provide to prepare your file for printing as well as the ability to save print settings with the file itself.For these reasons, we recommend that our customers submit Illustrator files "placed" in a QuarkXpress, Microsoft Publisher (both require conversion to an .eps file) or InDesign (no conversion required) layout file. These files provide more consistent positioning and registration capabilities to save time and expense when outputting your file.If this solution is impractical for your file or these programs are not available to you, we recommend following these steps to prepare your file for submission:



1. Convert Type to Outlines: If there is relatively little text in your Illustrator file,
we recommend converting text to outlines. This alleviates the need to include fonts with the file. However, this effectively removes the ability to edit text in the file. When converting type to outlines, we recommend retaining a copy of the original version of the file in case edits are required in the future. To covert text to outlines, simply select the text in the document, and select the "convert to outlines" option under the 'Type" menu on the main menu bar.


2. Setting "Save As" options: When saving the final version of your Illustrator file for submission, we recommend selecting "Create PDF compatible file," "Use Compression," and "Embed all Fonts." These options are all selected by default. We recommend un-checking "Subset fonts when less than 100% of the characters are used" which is also selected by default. Once saved with these options, your file is ready to be submitted.
---
Disclaimer: All information deemed reliable but not guaranteed and should be independently verified. Neither Press Express, nor By Request Web Designs, shall be responsible for any typographical errors, misinformation, or misprints.